I've seen them for years, but have always dismissed them due to the lack of micro-nutrients in the available refill bottles of fertilizers, their main use appears to be for in-ground plants which have access to the minerals in soils and my application is for container grown plants. In a discussion on the fig forum two members mentioned using this feeder,
ross
mentioned reusing the bottles filled with another granular water soluble fertilizer. After a search at M-G's website I found the mix ratio at the FAQ page,
http://www.miraclegro.com/smg/goART2...00004/12900004
http://www.miraclegro.com/smg/goprod...6?locale=en_US
http://www.homedepot.com/p/Miracle-G...1910/205563774
The
fixed mix ratio of 1:325
means that the
16 oz bottle will make ~ 40 gallons (5,200 oz) of nutrient mix
(16 x 325 / 128 = 40.625)
The regulator is an extremely simple (uncomplicated) mechanical design and can be used with many watering devices and variable water pressures
(25-125 psi and flow rates ranging from 0.2-7.0 gpm)
because the concentrate and water are mixed in an internal chamber, increased pressures and flow rates will mix the concentrates faster, but the nutrient solution will still remain at the fixed mix rate of 0.40 oz per gallon. Since this device has a fixed orifice to feed the concentrate there has been lots of documented negative feedback because the hole will sometimes get clogged, rinsing out the bottle's threaded connector, keeping it clean from mineral build up and occasionally clearing the opening with a pin or needle has been the recommended solutions. The orifice should not be enlarged / drilled out because this will only effectively increase and change the flow rate.
.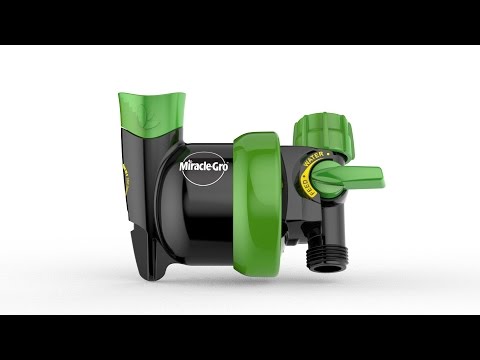 I'm currently testing this device with Miracle-Gro® All Purpose 24-8-16 fertilizer @ 1-1/4 cups and Epsom Salt @ 1/2 cup to create the 16 oz. concentrate, refilling the bottles following the directions posted on the web;
www.pinterest.com/pin/71916925272365612/
Reusing Liquafeed bottles:
1. Unscrew the cap, with a butter knife pop off the top insert of the Liquafeed bottle
2. With a funnel add 8 tbsp Miracle-Gro® Water Soluble All Purpose Plant Food 24-8-16 into a 8-oz water bottle
3. Fill rest of bottle with warm water replace lid shake well until dissolved
4. With a funnel pour mixed solution through filter (permanent coffee type) into refill bottle replace top insert
5. Put in sprayer
The mix recipe of 1-1/4 cups is exactly 1/2 the full dose of M-G All Purpose and equivalent to the Liquafeed All Purpose 12-4-8, but includes most of the essential macro and micro nutrient less Calcium. Although I try to grow as organically as possible using Espoma-tone fertilizers to maintain healthy soils and potting mixes, my fertilizer inventory has always included Miracle-Gro® All Purpose Fertilizer and Epsom Salt. Almost any Organic, Chemical or Hydroponic water soluble fertilizer concentrate by any manufacturer could be used in the Liquafeed regulator / dispenser with the Knowledge of their mix ratio and using the known flow rate (16 oz concentrate / 40 gallons solution).
The next phase of testing is to see if the plastic and O-ring seals can withstand Battery Acid (33% Sulfuric Acid). The Liquafeed could then possible be used to acidify the water for my backyard Blueberry patch.
References:
1. Essential nutrients...
http://www.ourfigs.com/forum/figs-ho...-feed-schedule
2. Liquafeed modifications..
http://www.tomatoville.com/showthrea...b4f4f3&t=40694
3. Discussions...
http://forums2.gardenweb.com/discuss...on-for-my-pots