Thanks so much, to all of those that attended the wonderful fig-tasting at Gary's in Santa Rosa on Saturday and shared with all, the vast bounty of your gardens! The sweet offerings could only be upstaged by the warm banter of such great friends reuniting. And there was such a tremendous outpouring of generosity manifest, with dozens of incredible cultivars freely shared... some of them as large as 15 gal specimens!
It is so nice to be able to compare and contrast the many figs that are held in high esteem, and thereby get an insight into which ones we each find are desirable to our own tastes. This prevents us from spending hundreds of dollars in purchases and years of effort, only to discover that a highly touted fig is nothing close to the hype that surrounds it.
Such has been the case with Ischia Black, UCD.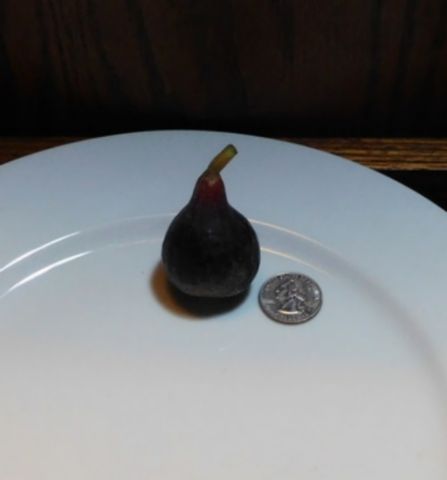 This cultivar was among the figs offered up at the Wolfskill tasting three weeks ago, and then again this weekend. And on both occasions, the consensus of seasoned growers that tried it was that there are far, far better figs available; and those other figs are found on robust, productive trees; whereas the Ischia/B is reported to be extremely difficult to propagate and a balky grower. Certainly one might carefully weigh the effort and expense that it demands. (For instance, my lowly Brown Turkey produces a fig that readily equals the I/B in flavor to my taste.)
We tried to keep our rankings to ourselves until most in attendance had had a chance to sample the offerings present... but we also tried to get the attendee's critique before the Scotch tasting commenced. LOL!!!
Almost to a person, the ranking placed Emalyn's Purple in the top position. Emalyn's was followed in order by CdD-Blanc, Fico Preto, Black Madeira, and Bourjassotte Grise. The number six spot then seemed to be equally divided between Zidi and GM 172. Following them, the rankings were really mixed among the balance... but Rob's Genovese Nero, Black Jack, CdD- Noir, Panache, Lampeira (Prusch) and VdB placed high among many others present. The Ischia Black and Maltese Beauty often failed to place higher than the honey figs in rankings.
Our get-together was easily worth every bit of my seven-hour drive, and I am already looking forward to next year's event being hosted by Scott in San Ramon!
Blue