A few weeks ago, I was assessing the progress of some grafts that I had done, and I identified a very cute little fig wasp on a Black Madeira graft.
I was elated with the confirmation that they were established in our neighborhood... but I needed to learn how far away that they might make their home, so as to alert me as to the urgency of establishing my own caprifig resource for my Smyrna and San Pedro trees. (My current caprifig is less than 24" tall) Thus began my search for the nearest mature caprifig to my orchard.
Last evening, that search met with success.
While enjoying the relative cool of the evening (with 108* days, anything below 90* is a welcome relief), we took a hike along the Feather River, about 200 yards from our place. And spotted a fig tree hidden within a group of overgrown trees, which was heavily laden with figs. One which I had not noticed before.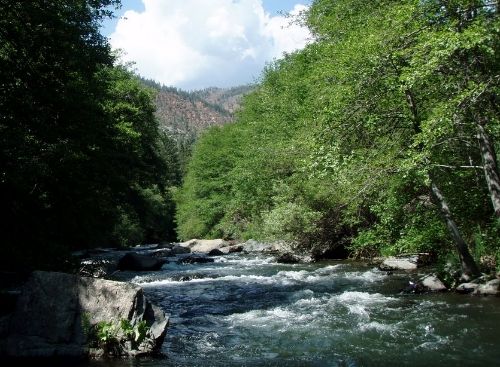 A small branch bearing a couple of figs returned home with us, and upon slicing it open, I was greeted with the following scene:
WooHoo!!!! I don't think that anyone has ever been happier with finding bugs in their fruit!
So, any fellow forum members that are frustrated over having trees that continually jettison their figs... (can you say, Unk Pastilier?) I would welcome trading you for trees that will produce for you without requiring the luv'n of these cute little guys.
Send me a PM, and we will both enjoy a fruitful year!
Blue