'Tis harvest time... the Red Haven peaches and T/C blackberries have me on a perpetual fructose high! Both of these cultivars are simply incredible picked and eaten fresh. (But the thoughts of blackberry syrup makes me swoon!!!)
As our Triple Crown blackberries are ripening this week, their incredible flavor got me to feeling guilty that more people aren't enjoying such a wonderful treat; which then got me thinking about maybe gauging the number of forum members that might want to receive T/C plants this fall. If I could get a PM to give me the heads-up, this would give me a rough number of plants to propagate after harvesting the berries over the next couple of weeks. The response last year on the other forum was very strong, so this would allow me enough lead-in time to get a healthy number of plants prepared in advance.
I had shipped mostly cuttings last year, but was able to find enough volunteer plants to get one into most member's package... and had asked $5 to offset the cost of packaging and shipping. Unfortunately, the Mrs. wasn't at all pleased with over a $300 shortfall in the actual cost of boxing and postage... especially after the shipments had Bogarted an entire week to get them all sent out; so with the added weight caused by multiple plants in each shipment this year, I'm going to ask for $9, delivered. (And, as last year, don't be shy to let me know if you have more mouths to feed than dollars to do it, as those shipments are without charge)
These are a few pictures of the T/C taken today, about three days into the fruit ripening period...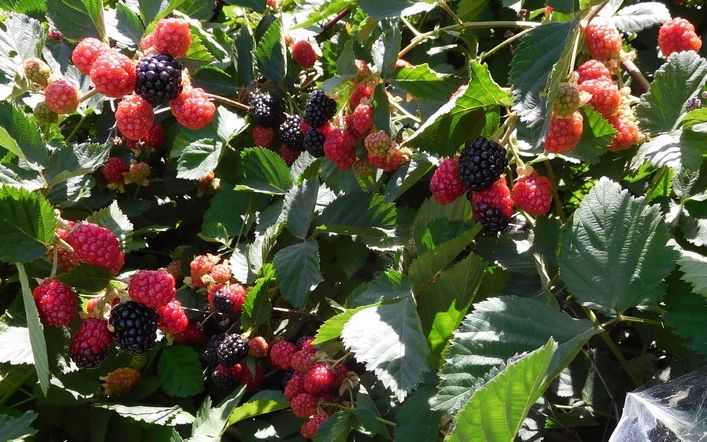 It is pretty hard to gauge the size of the berries in the photo above, so these next pictures will better show the relative sizes of the berries. (My hand struggles to squeeze into a large size glove; XL gloves are a comfortable fit.)
(And notice that my arms don't look like I've been trying to baptize a clowder of alley cats... the Triple Crown are absolutely thornless!)